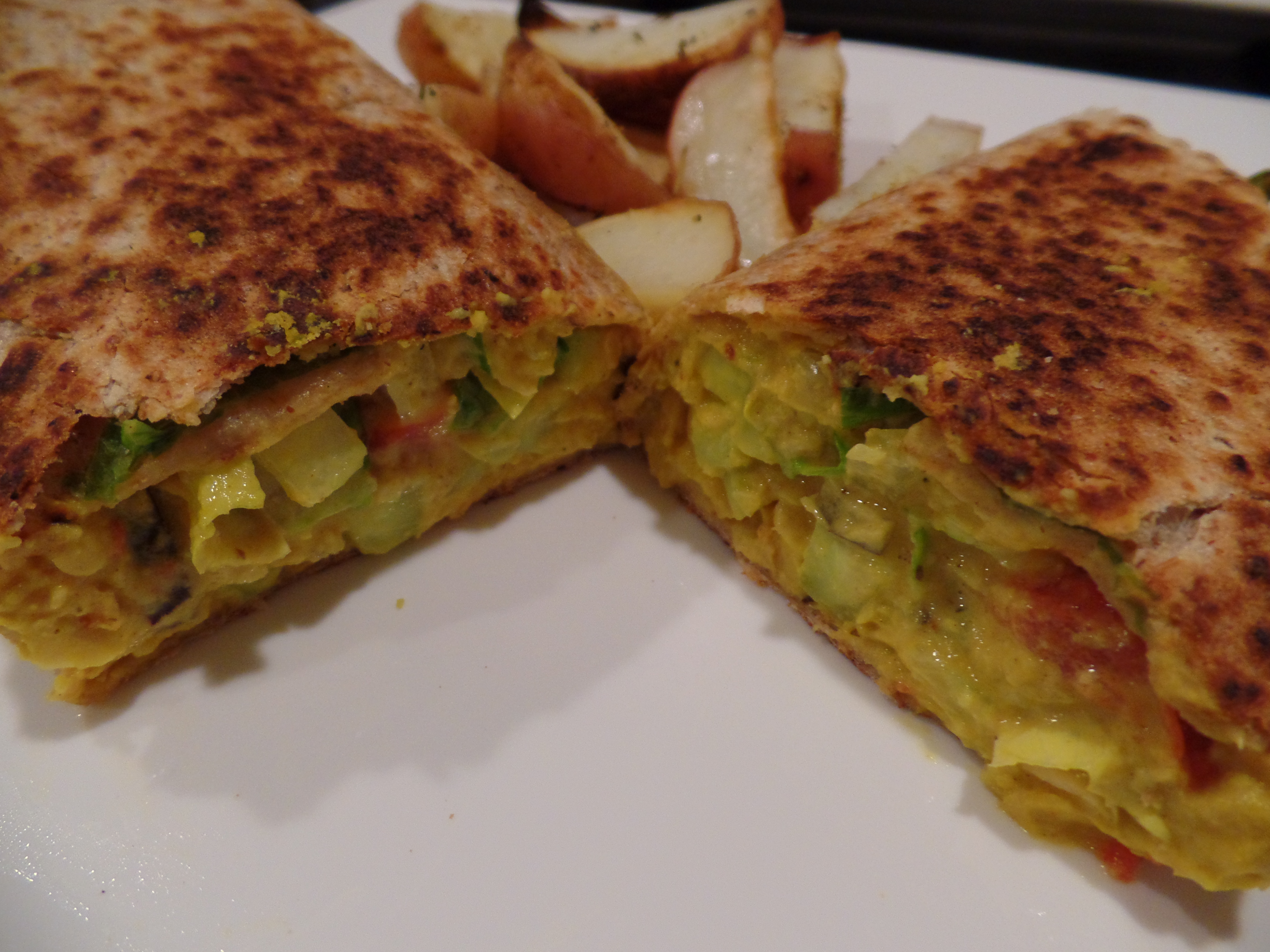 The Most Delicious Vegan Chickpea Shawarma Recipe!
The Most Delicious Vegan Chickpea Shawarma Recipe!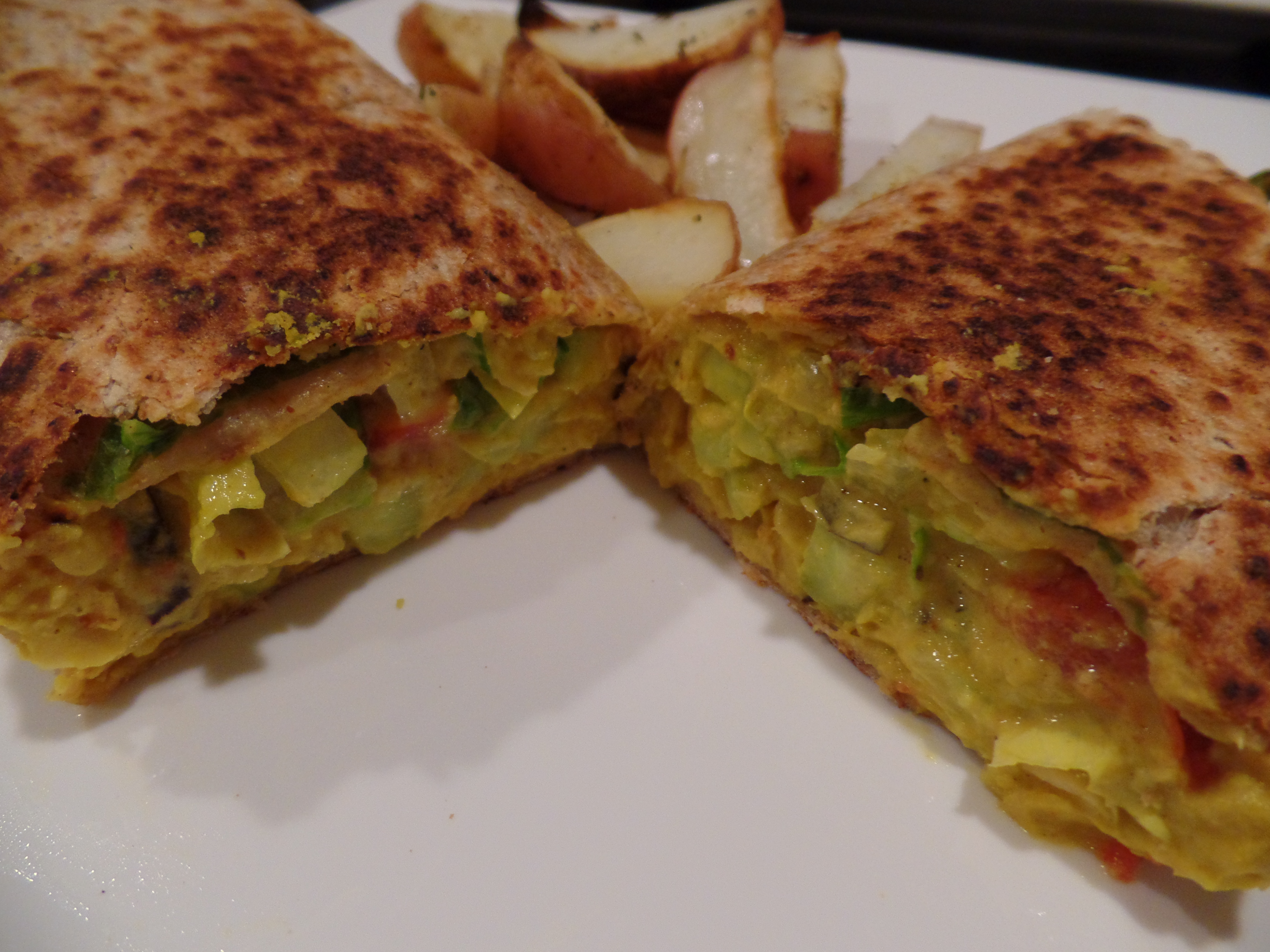 If you follow my instagram @thelifestylereporter, then you've probably seen the photo of my vegan shawarma from Mendocino Farms, a popular sandwich shop in Los Angeles.  It was absolutely delicious and so fulfilling.  It's funny though, I honestly didn't know what shawarma was until I saw it on their menu.  I wanted to try something new, because I usually got a salad there.  After I had my vegan shawarma wrap from Mendocino, I started thinking about how to recreate it in my own kitchen.  I also had a good motivation–I don't want to dish out $10 every time I wanted it.
My sister and I decided to take a stab at it and created our own recipe. It came out so amazing!  We made it two times within three days to one, test the recipe, and two, because it's that good.  Shawarma is a Mediterranean dish and typically made with meat, but vegan shawarma can be created with chickpeas or seitan.  I've never tried seitan and I honestly don't want to, so that was out of the question for me.  I love chickpeas and so we when we started crafting the recipe, we included the chickpea base, and a tahini dressing, all in a whole wheat tortilla.
Anyways, the recipe is below–it's completely vegan, healthy and delicious!  I hope you enjoy!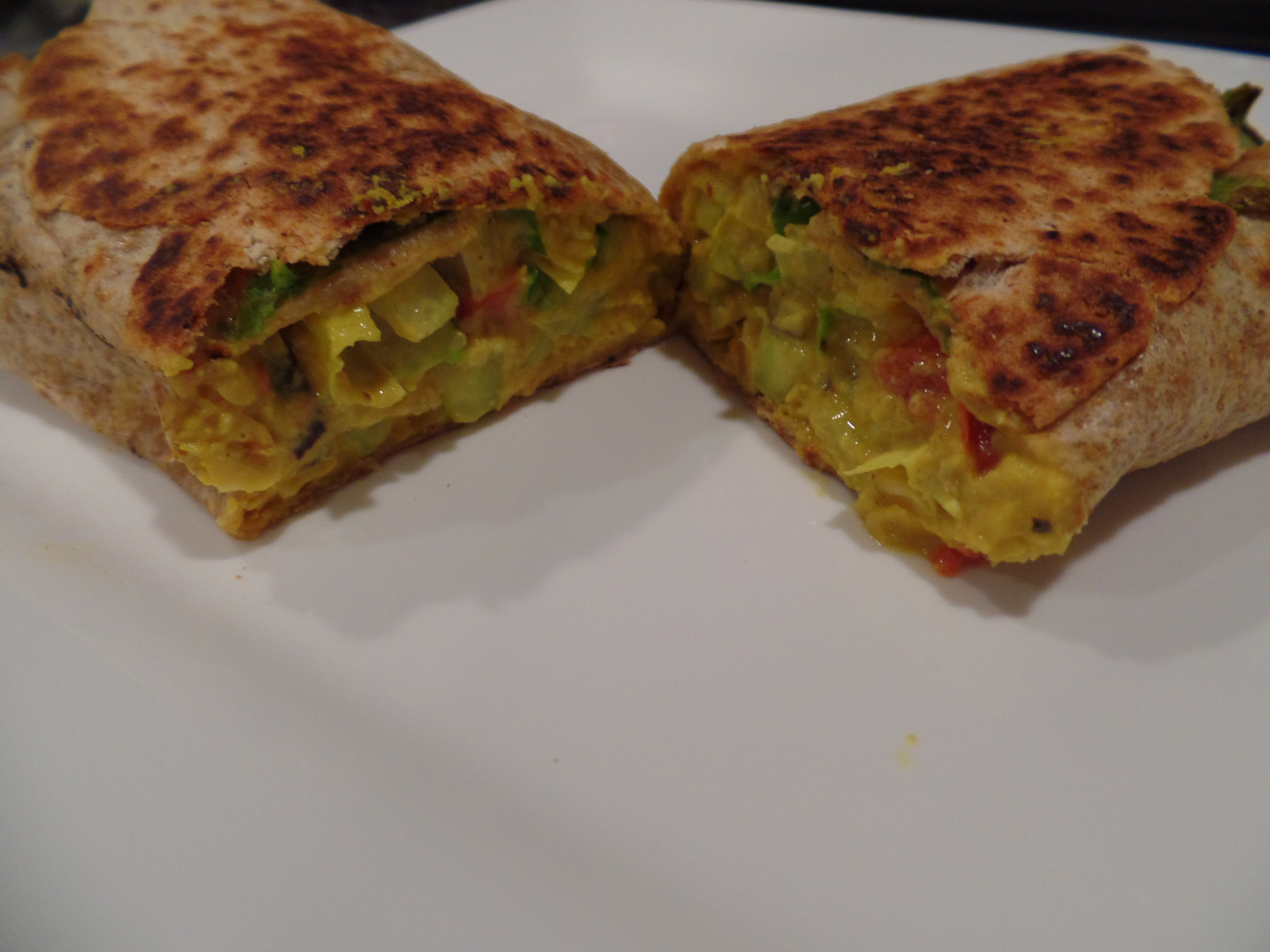 Vegan Shawarma (Serves 4)
-2 cans of garbanzo beans (also called chickpeas)
-7 TBSP Tahini
-1/2 of a yellow onion (medium sized onion)
-2 cloves of garlic
-2 TBSP Lemon Juice
-2 Persian Cucumbers (skinned)
-1 tsp cumin
-1 tsp turmeric
-salt and pepper to taste
Dressing
-2 TBSP Tahini
-1 clove of garlic
-1 TBSP Lemon Juice
-1/4 of a yellow onion (medium)
-1-2 Persian Cucumbers (skinned)
-Salt and Pepper to taste
For the Wrap:
-whole wheat wrap bread
-purple onions, diced
-tomatoes, diced
-romaine, diced
-cucumbers, skinned and sliced into long, thin sticks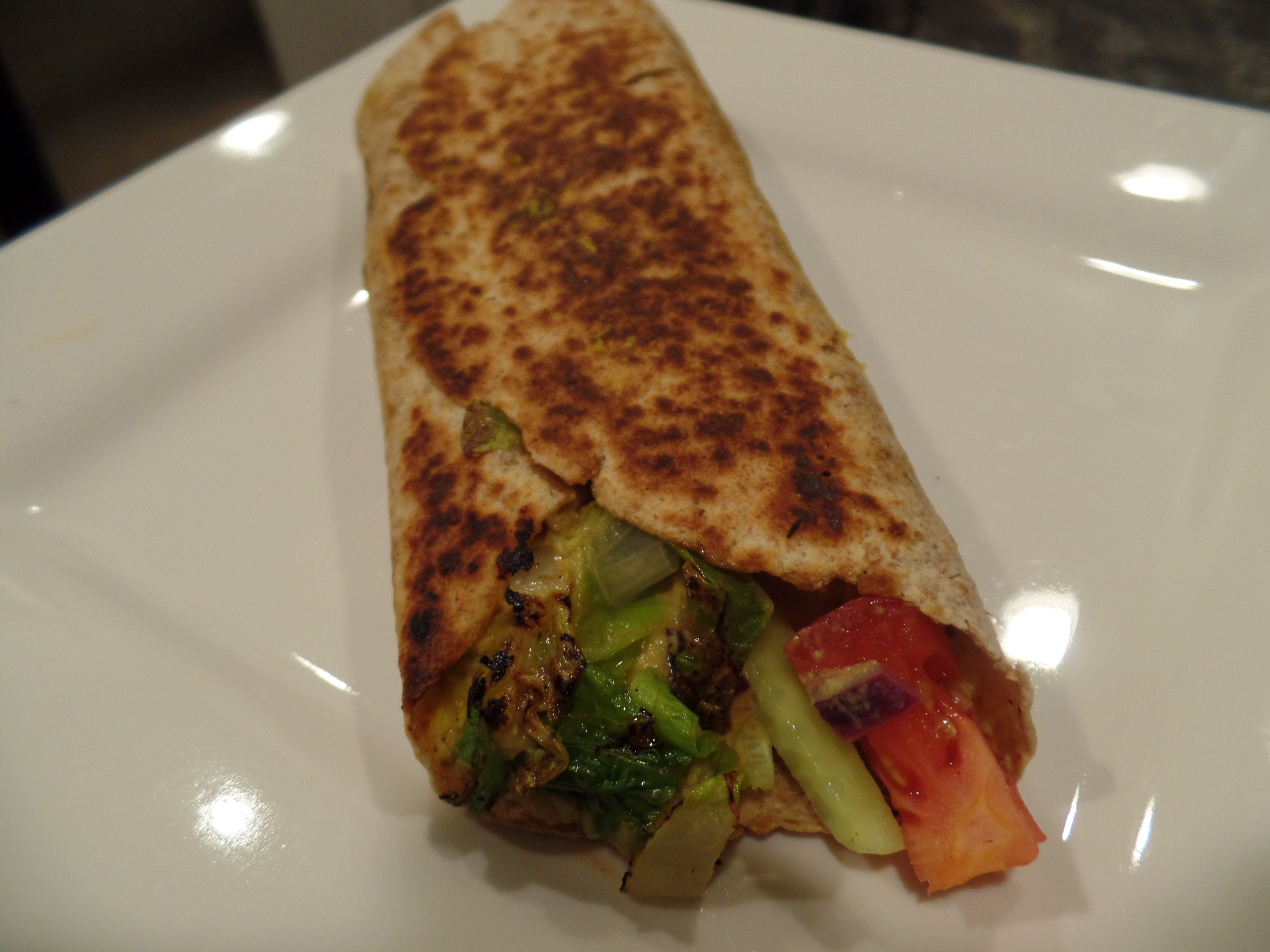 To Prepare:
1. In a food processor, add the onion and garlic.  Blend the two ingredients.  Now add the tahini, spices, lemon juice, and cucumbers and blend well.  Finally, add the two cans of beans after you've washed and drained them.  Don't blend the beans in too well, just roughly blend it, leaving beans mostly whole.  Put the mixture into a separate mixing bowl.
2. To make the dressing, use the food processor again.  You don't need to wash it, because you want the flavors from the bean puree to infuse with the dressing.  Add the garlic and onion and blend well. Next, add the remaining ingredients: the tahini, lemon juice, cucumber(s) and salt and pepper.  For the cucumbers, first add one and mix.  If it has a creamy/liquidity consistency, one is enough. If it's not wet enough, add the second cucumber.
3. Turn the stove on to medium temperature and use an olive oil spray to coat it.  While it's warming up, assemble the wraps.  Lay the wrap bread down and then add the bean puree, making sure not to go to far out near the edges.  We put a couple of big spoonfuls of the puree because we were really hungry ( 🙂 ) and then on top of that layer, add a thick layer of the sauce, spreading it evenly.  Next, add the cucumber slices in the middle, and then top it with the romaine, tomatoes, and onions.  Fold the bottom part of the wrap up and then pull each sides to meet in the middle. Use a little bit of purified water to kind of seal the fold so it stays like a open-ended burrito.
4. Put the wrap on the stove open side down and let it cook for a few minutes to get a golden crispy texture.  Turn it over and do the same on the other side.  Once it's done, cut in half and enjoy.  We had it with a side of baked potato slices.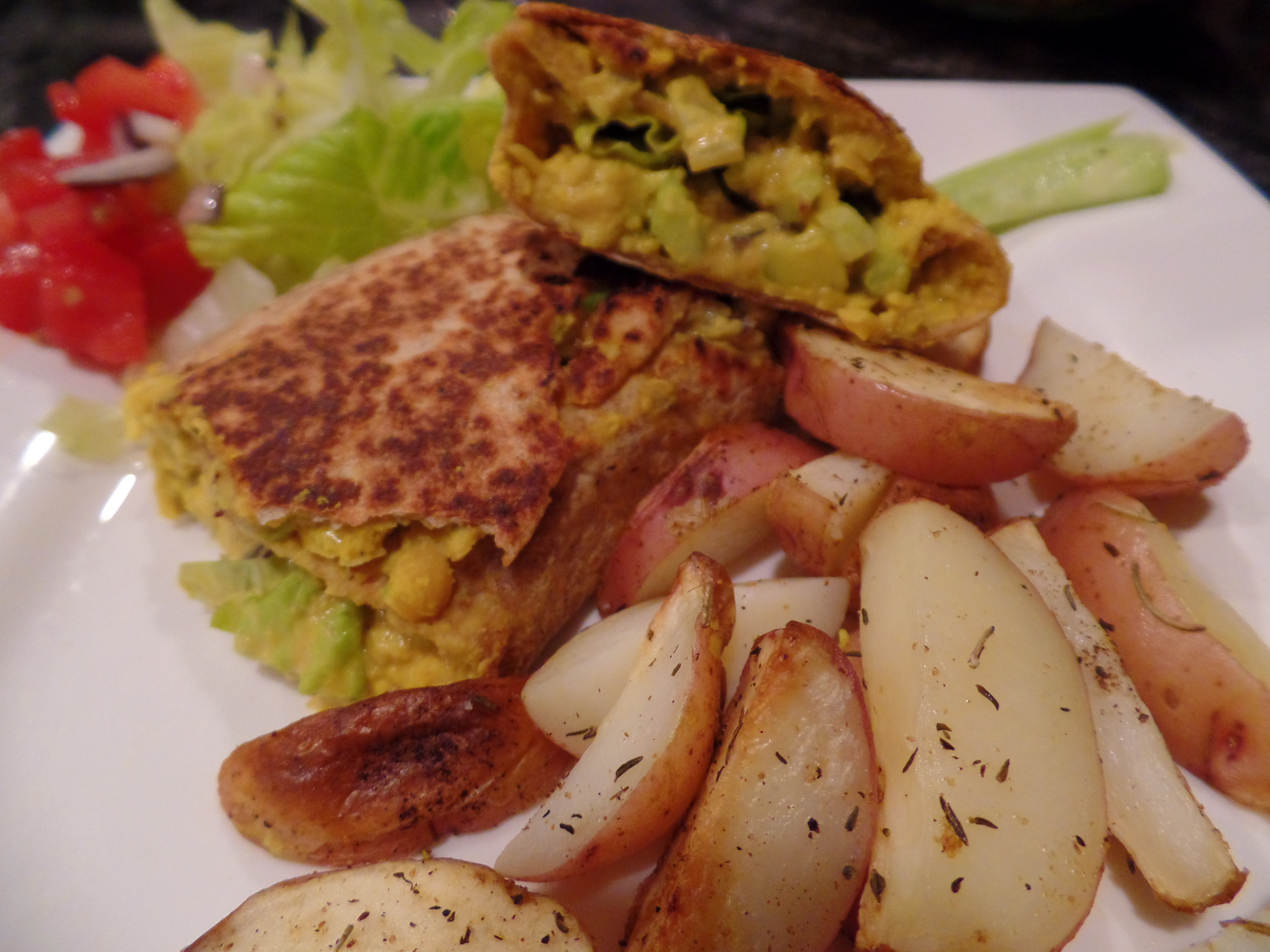 Let me know if you try the recipe below!  Ok, now I'm totally craving some more of this shawarma 🙂 !!