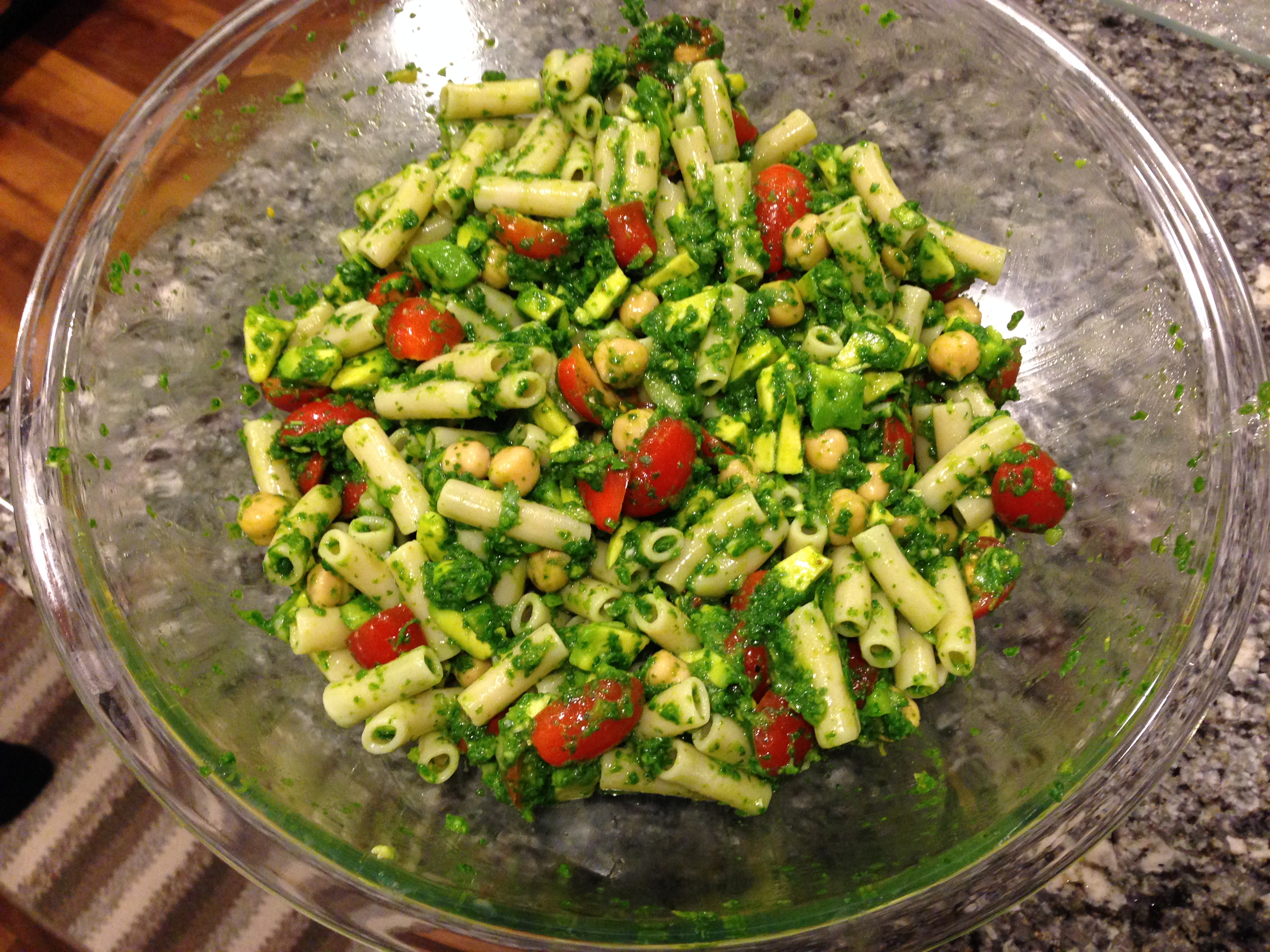 Avocado Cilantro Pasta
Avocado Cilantro Pasta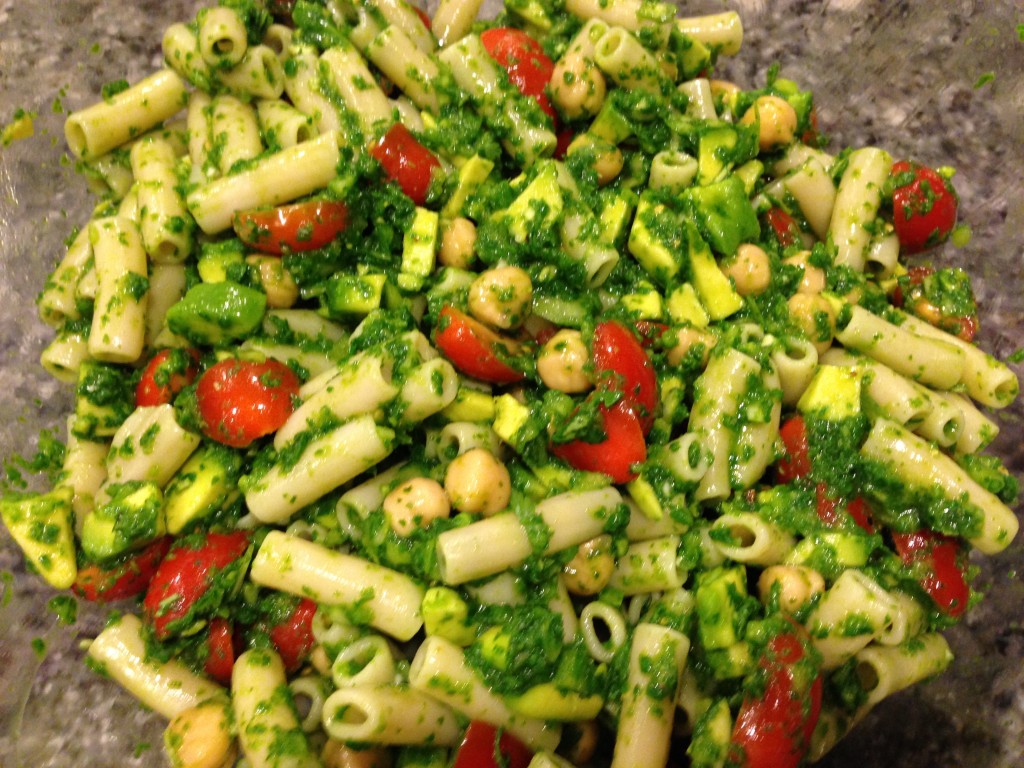 One of our go-to vegan meals has currently been this avocado cilantro pasta dish–it's easy and so delicious.  I found the recipe on sweetsimplevegan, but we changed it up a little bit.  The day after we made it, we took the leftovers for our lunch and it still tasted fresh and amazing!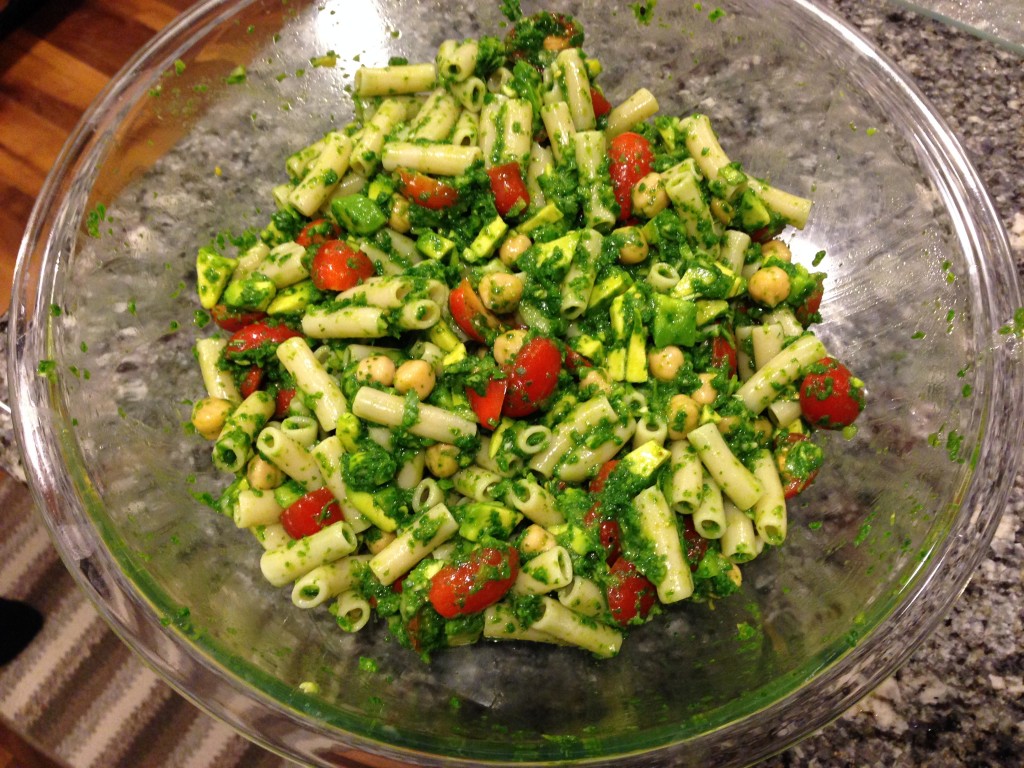 Pasta:
2 cups gluten free brown rice penne pasta
2 cups baby spinach
1 bunch cilantro, stems removed
3 cloves of garlic
1/2 red onion
1 large avocado
1 can garbanzo beans
1 cup cherry tomatoes, halved
Dressing:
Juice of one lemon
3 tsp olive oil
1 tsp agave
2 tsp spicy mustard (I got mine from Trader Joe's)
1/2 tsp. cumin
dash of salt and pepper
1. Cook pasta according to package instructions.  Drain and let it cool.
2. In the food processor, add the spinach and cilantro and turn on until finely chopped.
3. Add the food processor chopped spinach and cilantro mixture to a large bowl.
4. In the newly empty food processor, add the onion and the three cloves of garlic; chop until it is a fine mixture.
5. Add the onion and garlic mixture into the large bowl with the chopped spinach and cilantro.  Mix.
6. Dice the avocado and cut the tomatoes in half.  Drain garbanzo beans.  Add the diced avocado, tomatoes and garbanzo beans to the large bowl.
7. Pour the pasta into the mixture.
8. Make the dressing in a separate small bowl, mix well and then pour over the pasta and greens mixture.
9. Toss well and serve. Enjoy!
It tastes good fresh or the the next day, as a cold pasta dish.  Best stored in the fridge in small air tight container.